PaddleTX is designed for the paddling community to allow each other to make information about rivers and paddling trips more readily available to the general paddling community and to be a general resource for connecting with these communities.
Check out the river guide for paddling information on Texas rivers. Read recent news or about action issues for conservation efforts to protect our rivers. Join our e-mail group, find related organizations, or volunteer to be a part of the PaddleTX team.
We had planned on having a little more here when we first got started, but the off-road issue made us move forward a little quicker than originally expected. Please check back as we will continue to grow.
Support River Protection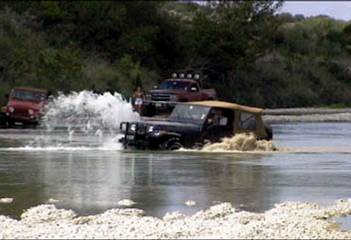 Prevent River Destruction by 4x4's and Off-Road Vehicles
In the past few years, Texas has seen a dramatic increase in the number of off-road vehicles being used capriciously in our rivers. You may have seen events like this when you've gone to the river. They've been spotted in many of our rivers including the ever popular Frio, Nueces, Guadalupe, Canadian, and Llano rivers as well as many creeks such as Spring Creek in the Houston area.
Because of this threat to Texas' rivers and watercourses, legislation has been introduced in the Texas Legislature to prevent this river destruction. House Bill 305 and Senate Bill 155 are the key to protecting our rivers from this assault. Read more...